Ryder Cup FB 2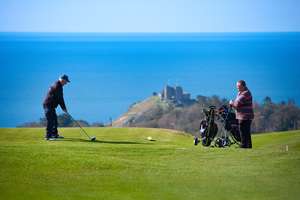 Golfer teebox Wales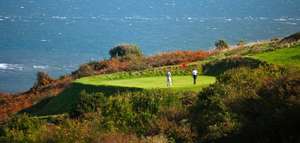 Golf sea Wales pano
If you want to enjoy wonderful, beautiful chateau hotels, outstanding French food, good golf, the best chateau vineyards for wine tasting and locations that allow you to visit nearby cities and sites all in on week, let France Golf Tours plan your itinerary and make all the arrangements.
Roy Glah & Diane Lamb Muhlfeld - USA
This is the 5th successive year François has organized tours for our group to France and Italy. Accommodation in Chateau typed rooms are spacious and very comfortable, usually with terrace and excellent view. Food are the best quality and we have tried restaurants with a total over 60 Michelin stars during the past 5 years. Golf courses with different degree of difficulty are enjoyable. On the whole, the tours are well organized and specially tailored for our interests - excellent work !
Lambert Leung – Hong Kong
As first time visitors to golf in France, François and his team at France Golf Tours provided us with a wonderful introduction to the delights of golf, wine, food and châteaux in the beautiful Loire Region"
David & Anne B. - Royal Melbourne Golf Club, Australia.
Without a doubt this was the most incredible trip we've ever experienced. The golf courses and accommodations were phenomenal. Francois had everything perfectly organized from beginning to end. He even presented John with a birthday gift at the airport. We will be back…guaranteed!
Cathy and John Mertl, Ottawa Canada
Our trip with France Golf Tours was an immersion into the beauty of France and the delights of French culture as well as the discovery of excellent and challenging French golf courses. François gave close personal attention to every detail of the trip, including arranging transportation and drivers, and he checked with us often during our two-week trek to make sure that everything met our satisfaction. We were five couples traveling, and both the men and women golfers were delighted with the courses as well as with the excellent hotels and dining. We would love to do the entire trip again and would certainly choose to do it with France Golf Tours.
Bruce and Sharon Gagnon, Anchorage, Alaska
"France Golf Tours did an outstanding job organizing and running our golf vacation in France. Must admit I was sceptical about a golf vacation in France but everything about it was memorable. We had a minimum of 7 and as many as 11 people they had to manage-tee times, castle and winery visits plus shopping for the ladies. The guys played 7 rounds of golf at five different courses in a seven day period. While we were doing that they were taking the wives and others all over the countryside. The golf courses were wonderful, great restaurant with spectacular fireplace and great rooms. Must also mention our driver for the week. Tony picked us up in new Mercedes bus and stayed with us for the entire trip. He was very helpful in all aspects of the trip. Obviously, I strongly recommend " France Golf Tours' and Francois for anyone wanting to take a golf vacation in France and Europe."
Bob S. - Akron, Ohio
Francois service was absolutely outstanding ! We had a very complete itinerary with multiple interests and well organised arrival and departure. Francois did it all with aplomb. We will use him again for our next trip
Catherine Veinbachs USA
Our golf Tour in Normandy, 4 nights, 5 rounds of golf, organized by France Golf Tours was memorable. The program, in a such limited time, did not allow many slippage. It was seamless. In addition to great golf and excellent accommodation, our tour guide to the D.Day sites was very informative and went beyond the allocated time to show us as much as possible. I would highly recommend France Golf Tours.
Daniel Martin - USA
Having stumbled upon their website while looking for golf vacation info, we were impressed enough to contact France Golf Tours to arrange a custom two-week holiday in Bordeaux and the Loire Valley for ourselves and another couple. We outlined to Francois our priorities: play on great golf courses (for the guys), stay in fabulous chateaux, drink and dine like royalty, and tour through the countryside in our own vehicle. And of course, a few days in Paris. They arranged everything for us and all aspects of the vacation exceeded our expectations. The golfing was first-rate, with all our games completed in 3 1/2 hours enabling us to be back at the chateau in time for lunch and an afternoon of sight seeing with the girls. The level of personal attention they provided was outstanding and we can say without hesitation that this was a memorable, one-of-a-kind vacation."
Reg and Alison E. Vancouver Canada
Discovering French Golf courses among beautiful Chateaux country was a very special experience. Not only did we live and drive like kings, we found the golf very challenging.
Dr & Mrs Shield and Mr. & Mrs. Robertson USA
This is one of our most enjoyable holidays, with excellent arrangement. France Golf Tours attended to all details and their responsiveness plus commitment to customer satisfaction is most impressive. My private tour group of 12 members all had high praise for Francois.
Dorothy Sit Hong Kong
Thank you for a great trip ! We will come again. France is beautiful !!
Francois le Roux South Africa
Francois and France Golf Tour provided top-notch service to their clients. The trip was exactly what we asked for and what was promised. Recommendations for lodging and tours were spot on. Highly recommend this organization. Loved every minute of the trip.
Matthew & Marjorie Bailey USA
Discovering French golf courses among beautiful Châteaux country was a very special experience. Not only did we dine and live like limps, we found the golf very challenging.
Dennis S. USA